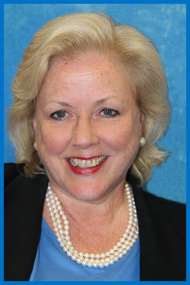 Rowena M. Durán
Ms. Durán has tried numerous cases, representing hospitals, nurses, and physicians in all medical specialties. She has also handled general liability matters and the defense of officers and directors. In addition to trial work, Ms. Durán has argued cases before the New Jersey Appellate Division.
Ms. Durán graduated summa cum laude from Montclair State University in 1978, receiving a B.A. in the dual major of History and English. She worked for 3 years at Wausau Insurance Companies, as a multi-line Claims Investigator, a Claims Examiner and a Claims Supervisor. In 1984, Ms. Durán received her J.D., magna cum laude from Syracuse University, College of Law. She was admitted to the New York and New Jersey Bars in 1984.
Ms. Durán became certified as a Civil Trial Attorney by the New Jersey Supreme Court in 1991 and has been continually recertified. In 2008, Ms. Durán became a member of the American Board of Trial Advocates and currently serves as Vice President of the North Jersey Chapter. Ms. Durán has been honored as a Super Lawyer in New Jersey annually since 2008.
Ms. Duran has been recognized as one of the Top 100 Attorneys
for New Jersey.
Education:
• Montclair State University, B.A. 1978
• Syracuse University, J.D. 1984

Bar Admission:
• State of New Jersey
• State of New York
• United States District Court for New Jersey

Professional Activity:
• Certified Civil Trial Attorney, Supreme Court of New Jersey
• Advocate, American Board of Trial Advocates
• Vice President, Northern New Jersey Chapter, ABOTA
• New Jersey Super Lawyer
CONTACT: